I've always been a coffee lover, but the benefits of green tea for your health are so compelling that I'm always looking for a way to work it into my life.
Studies show that the antioxidant compounds in green tea relieve inflammation & stress – which are two big triggers for menopause symptoms.
On top of that, green tea helps keep bones strong, boosts metabolism & helps with memory & cognition – ALL things we can benefit from during this time of life.
Matcha tea can be a great addition or replacement for your morning cup of coffee. It has 10 times as many antioxidants as standard green tea & it has some of the key vitamins & minerals for supporting hormonal balance (vitamin C, selenium, chromium, zinc & magnesium).
When my daughter taught me how to make my own matcha tea, I was hooked. My favorite brand is Pique. I buy the loose-powder form. All you have to do is add 1/2 teaspoon of matcha to 1 cup of hot water & whisk until dissolved. I like to add a bit of honey & some warm soy milk to make my own matcha latte.
If you're struggling with hot flashes, making a swap from coffee to matcha tea can be super helpful. Give it a try!
You can make the benefits even better by inviting a friend over to enjoy a cup of tea with you!
Shop my favorites at Pique tea below.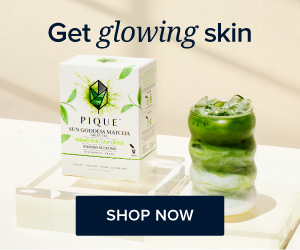 P.S. If you enjoyed this post, you'll love my weekly newsletter on Substack. It's called The LIFT + it comes out on Sundays. You can check it out & subscribe here.